Wix E-commerce Today, numerous programs make it easy to create websites and online stores by yourself without the need to hire anyone. In addition, they offer an intuitive interface to build web pages without the need to enter programming code. Allowing them to be brought online in a few clicks.
Wix is ​​one of the most prominent software, and its Wix E-commerce service is no slouch. It's a comprehensive platform with everything you need to build an eCommerce website.
Although it is still a generic platform, which does not reach the functional depth of specialized e-commerce tools such as Shopify or Prestashop, Wix Ecommerce can create a simple online store relatively quickly and at a reasonably affordable price.
In this analysis, we describe the main advantages and limitations of Wix E-commerce. The resources it offers for electronic commerce, and a series of recommended applications to use in your online store.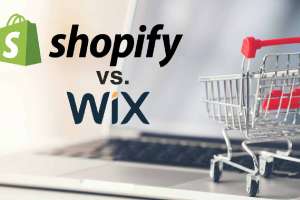 What is Wix E-commerce
Wix Ecommerce is an online store builder that lets you intuitively build an eCommerce website, from a web template, with a drag-and-drop editor, for $17/month or more. The Wix platform was founded in 2006 and allowed you to create various websites. For a fixed monthly price in advance, you have a complete service package that enables you to create and manage your e-commerce website without problems. It will be difficult for an online store built with Wix to have a unique design.
Main Advantages And Limitations Of Wix E-commerce
Wix Ecommerce's main strengths are design templates and ease of use. These are its most outstanding characteristics:
Wix ADI: Possibility To Create An Online Store Very Quickly
The first step when creating the e-commerce website will be to offer you two possibilities: the traditional editor or the automated Wix ADI (Artificial Design Intelligence) editor. If you choose the Wix ADI editor, you will go to a short questionnaire. Wix will ask you to define your online store with keywords, indicate the functionalities you want to integrate into it. (blog, live chat, reservation management, etc.), and choose a style design among six possibilities. If you already have a website, Wix ADI lets you import its content (images and texts) directly.
Varied web templates Wix E-commerce
If you choose the traditional Wix E-commerce editor to create your online store, the first step will be to select a web template to build your online store. Wix stands out for the variety and quality of its web templates: there are more than 900 designs in total and more than 100 specific templates for online stores. In addition, in the Wix website templates section, layouts can be filtered by categories.
Choose The Web Template Well Before Editing The Website Wix E-commerce
All templates  preview, and it is essential to give this step the importance it deserves
So don't hesitate to spend enough time previewing the design and testing with a small selection of your products. You can also test several templates and show them to people who may be part of your target audience. Creating an online store takes time, even with an assisted creation program like Wix, and it is essential to monetize it well. When previewing the template in Wix Ecommerce, you will find a dedicated button for the mobile version in the upper left corner. All Wix web templates automatically adapt to mobile, but you must check that the mobile display is optimized and meets your expectations, just like the desktop one.
Wix E-commerce Editor Ease of Use
Once you've chosen a web template, it's time to edit it using the intuitive editor. It is also a final result editor in view or WYSIWYG ( what you see is what you get ): at all times, you will view the web pages like future visitors. In other web editors like WordPress, every time you modify something, you need to make the changes in the editing interface, preview them and save them if you are satisfied with the result. The right side menu includes the options to manage the e-commerce website: the web pages and, within each of them, the sections, the background, the images, multimedia files, etc.
Advanced Options: SEO Resources And Online Store In Several Languages
In addition to editing the eCommerce website visitors will see, Wix Ecommerce includes other essential settings in the top options menu.
One of the most prominent options is the wizard to create the online store in several languages. Which offers the option to translate the website automatically or manually. We recommend the second option.
The configuration of the online store in several languages ​​is more straightforward than with other platforms such as WooCommerce.
Another resource in this menu you should not overlook is the Wix SEO wizard. Which allows you to optimize search engine positioning. From here, Wix offers practical advice for optimizing page titles and texts and connecting the online store with Google Search Console, among other actions.
Wix Store: Wix Ecommerce Resources
But you can rest assured we have not forgotten that this article focuses on the Wix E-commerce service, specifically for creating an online store. The Wix Stores section centralizes all the resources to integrate an online store into your website. It is also possible to sell digital products online, which the customer can download after payment and pre-booked services. (for example, private classes or coaching sessions) with the application. Wix Bookings. Online stores often integrate other marketplaces, such as Facebook, Instagram, or Amazon, into their strategies. Wix offers integrations with some marketplaces: eBay, Facebook, and Instagram.
Wix Ecommerce Pricing
A first clarification: although there is a free version of Wix, it does not allow you to process virtual payments. You can use the free plan to build your online store beforehand, then upgrade to an eCommerce plan to publish and start selling. The cheapest Wix E-commerce plan costs €17 per month. It allows you to process payments, sell without commissions, and enable customers to create accounts. For €25 and €35 per month, the most advanced techniques add complementary services such as more storage space or the possibility of offering subscriptions.
Recommended Apps From The Wix App Market
We've already seen the primary resources—generic and e-commerce—integrated into the Wix E-commerce interface for building an e-commerce website, but the platform tour doesn't end there. As usual in e-commerce creation services, you have an application store that you can integrate into your website: the Wix App Market. Wix develops some, and others create by third-party developers but have approval by the platform. Next, we are going to present a selection of nine recommended applications to manage an online store with Wix:
Shippo: facilitate shipments
This application lets you connect your online store with the Shippo platform to manage your shipments. Among other services, you can print labels for your freight or keep detailed tracking of deliveries. In addition, Shippo offers discounts with courier providers such as UPS, FedEx, DHL, and the United States Postal Service.
The app is only available in English. It is free to install, but the services managed with it, such as shipping, naturally have a fee.
Multiorders: Optimize Multichannel Sales
It is an application that helps optimize multichannel sales, integrating additional channels such as Amazon, Etsy, etc. All sales sync from a single dashboard and real-time inventory updates. The Multiorders app also allows you to synchronize deliveries and print shipping labels.
Wix Bookings: Booking Management
Wix Bookings is a free Wix E-commerce application for online stores of services reserved by appointment, such as massage sessions, meetings with a psychologist, etc. In addition, it uses to arrange conferences to present your services (face-to-face or virtual).
Wix Bookings offers an appointment calendar where clients can directly book and pay for the services they will receive. In addition, bookings automatically sync with your team's Google calendars.
Modalyst: Creating a Dropshipping Business in Wix E-commerce
The Modalyst app makes it easy to start an online dropshipping store on Wix Ecommerce. It provides access to thousands of products from different vendors and allows you to sell their products on your e-commerce website for a commission. But, unfortunately, it's only available in English.
Printify: Online Print-On-Demand Store
It is a print-on-demand application. If you install it, you can print your designs on t-shirts, mugs, and other items. (now also masks) and sell them in your online store without worrying about anything other than management. The application installation is free, but the printing and shipping of the products have a cost.
Wix Art Store: Online Store Of Works Of Art
It is a free application created by Wix to sell designs or works of art in your online store. Among other services, it protects images with a custom watermark and creates a custom license for artwork.
Paid Plan Comparison: Rate Comparison Tables
You are interested in the Paid Plan Comparison app if you offer different subscription packages with their respective rates. As we do at Sendinblue with our pricing plans. It allows you to include a rate page in this format on your website, detailing the services of each of your subscriptions.
This application has a limitation: it is only available in English. A multilingual alternative exists, the Pricing Plans app, but it has lower ratings on the Wix App Market.
Sendinblue Subscription Form
This functionality is currently only available by following the instructions on the Sendinblue website. If you use Sendinblue to manage email marketing campaigns for your online store. You can embed a subscription form in your Wix Ecommerce online store to grow your contact list. Visitors who cover it will become part of your mailing list instantly. You can use Sendinblue's automated marketing resources to send them segmented emails and develop lead-nurturing campaigns to encourage conversions and loyalty.
Conclusion
Wix E-commerce is the right option for you. The generic version of Wix and the Wix E-commerce service perfectly symbolizes the concept of an assisted website creation program, with its advantages and limitations. Using Wix E-commerce, on the one hand, translates into speed and (to some extent) carelessness. On the other hand, you will have to spend time on your eCommerce project, but possibly not as much as with other solutions. Furthermore, as advanced as Wix's graphical assets are, it's inevitable that websites built on the platform will end up bearing some resemblance to each other.
HELPFULL RESOURCES : The Best E-commerce Platforms