About How to Build a Mission Focused Startup Team
How to Build a Mission Focused Startup Team: The essence of growing the organization and developing a product begins with building an effective winning team. And for startups, team size can be significantly smaller, and building it goes hand-in-hand with building the organization.
Building a team involves bringing remote workers together to achieve a common goal. And each of them may differ in skills, mindsets, personality traits, and demographic backgrounds. With all deviations, the organization has to evolve, which requires people training. Hence the importance of team-building activities and programs.
There is a firm quote "Build the people. And people will build the business." All great companies focus on team-building activities. They have a separate wing to train their staff with skills and inspire them to come together.
What is Team Building for Startups?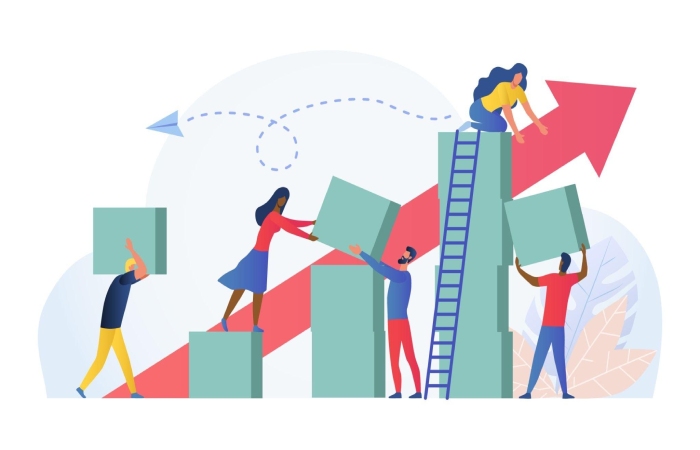 Team building is a conscious process that motivates, inspires, and moves team members to work together towards a common goal by letting go of their differences in behaviour, thoughts, and methods. When building a team, focuses on attracting individuals and placing them in predetermined roles.
Once the cogs are in place, the process of team building and team activities begins. Team building involves taking action and following procedures that motivate team members to work together and use each other's support and expertise to achieve a goal. It certainly requires an investment of time, money, and effort on the part of the organization.
Hire a high-performing team today. We follow a strict hiring process that helps our customers save time and money when hiring our dedicated software development team.
Building cohesion and synchronization is much easier in an industry that relies on physical machines and assembly line processes. In a knowledge-based industry, however, this is not the case. Each individual brings different skills, knowledge, and experience. Synchronizing them requires well-designed and well-defined processes and efforts to make the techniques work through activities.
Building teams is even more critical for startups as they have a very low probability of failure. However, a single mistake can destroy them forever.
Why is Team Building Important?
One of the best companies that innovatively encourages team building is Google. They have a cafe engagement concept. They encourage their employees to interact and informally share their ideas and views. This creates an environment that fosters creativity.
One of the best results of this office culture is that people can interact and collaborate with others from different countries and backgrounds, which creates the opportunity to hear diverse viewpoints and find the best solutions to challenges. It is worth mentioning some of the best results from team building activities as follows.
For tips, tools, and best practices for you and your film, check out our article on remote engineering teams management.
Onboarding
Employees come from diverse backgrounds in education, experience, age, demographics, gender, and cultural upbringing. As a result, everyone can have different personality traits.
Team building activities foster a sense of belonging in the fastest way, allowing employees to express themselves and connect with others freely. The familiarization time of a new employee to the office environment is significantly reduced.
Employee Contract
Routine and monotony are two verses that can kill creativity. In an office environment where getting a job done is the only motive, people tend to slowly back away from their initial enthusiasm. This is when employees look for a job change.
But essentially, they are looking for a break from the monotony and freshness by learning something new, contributing more, or getting more involved in the organization at a deeper level of participation. The best companies focus more on employee retention than recruitment. Team building programs help with employee retention and reduce costs for the organization.
Strategic Corporate Growth
Startups are unique in that future leaders are nurtured by new hires. The best startups focus on training their employees and encouraging them to grow. In addition, they encourage their teams to contribute to the company's growth by expecting them to share their ideas.
Employees in these organizations are not only limited to fulfilling their tasks and closing time but are also involved in decision-making through a flat management structure. Management in such organizations is not distinct by age and experience but by the employee's commitment. Team building is very effective for creating a connection and trust between people in which they can freely and creatively express their different points of view.
Startup Company Culture
A positive work environment is a culture of inclusion, where everyone has the freedom to co-operate, express themselves and express their skills, and a clear growth path. Conversely, a company that does not have a defined standard culture encourages unhealthy competition and secret behaviours that lead to low productivity and performance.
As the organization grows, a startup company must keep this important factor in mind because growth is defined by sales figures and the quality of the people who produce it. Therefore, maintaining a well-defined work culture is essential for a startup to play a long-term game.
How to Build a Mission Focused Startup Team and Benefits
Discover and Improve Hidden Talents
An employee's performance is evaluated based on their key result areas. But how does the organization know what individuals can do outside of work? Team building activities help to discover people's talents.
Some can be great singers; some can be great organizers. For example, we have seen that some organizations have fantastic football players in their company, and the organization promotes their players through sponsorship. This encourages the creativity of the individual, which is also reflected in the daily work environment.
A Natural Way to Identify Leaders
Team building activities and programs create an opportunity to identify people who take responsibility and willingly take responsibility for tasks. It is a model of leadership thinking. How employees engage in team-building exercises says a lot about them that might not otherwise be easily recognized as everyday work routines.
Again, unless there is an opportunity to speak up, how should an organization or management team know who their people are and how to develop them?
Learn to Work in a Team with the Same Values
Trust and cohesion are factors that affect connectedness at work. Valuable contributions and collaboration only happen when the organization's culture is positive. Team-building exercises drive the culture. Specific processes help people become one.
Employees are people with different character traits, likes, and dislikes. When breached, the wall of indifference based on likes and dislikes creates mutual acceptance. This is a crucial step for an organization as disagreements accumulate over time. Only regular team-building exercises can remove them and pave the way for a good working environment.
Accessibility
Gone are the days when there was a great distance to reach between project management teams and frontline workers. Instead, the walls are broken so employees can approach and communicate with managers at many levels.
Accessible communication comes from training people to be accountable for their actions and productivity. People feel they can contribute if they have a good relationship with management. And the same people take on the task out of obligation if their bosses are unavailable. Specific team-building programs can eliminate these lines of indifference and promote shared values ​​to achieve valuable results.
Remote Team Building Activities for Startups
Not so long ago, people went to work every day. Since Covid19, the workplace has been a laptop and home office. As a result, businesses are discovering creative ways to connect and collaborate online. Some of the team-building activities are listed here.
Create Weekend Zoom Parties
A simple Zoom call with videos and the happy team together is a fun way to end the week. A suitable controller will be a great asset as it can pump energy. Maybe a cocktail wouldn't be a bad idea after all. Regular weekend video conferences should be consistent; employees should see the end of the week with a beam and always look forward to it.
Virtual Training Programs
One of them is technical and knowledge-based training directly relevant to the position. And at the same time, adding personality development programs to the training program creates more enthusiasm. For example, one of the largest IT companies in the world, Tata Consultancy Services, has an extensive training department that focuses solely on the personal development of its employees. Topics will be emailed out, and people can sign up to create them. It is a powerful knowledge where an employee has the choice to grow personally and professionally.
Share Positive News and Information
Good news lifts a person's spirits. The frequent buzz of positive information keeps people in a positive conversation and attitude. Even during team meetings, you can inspire positive feelings by sharing things that can help others. Amidst what is happening in the world and at home today, gathering to talk about the good stuff prepares people to attend meetings out of personal interest, not compulsory attendance.
Inspire People to Share their Life Stories and appreciate them
One of the most effective skills is the art of listening and sharing. This is the quickest and surest way to gain trust and sympathy. Create an online platform where people can share who they are, what they have completed, and what they need to do in the future. The rest of the team should listen and encourage the speaker to speak more. And at the end of the sharing, enjoy and share how you felt. This can be done inappropriately with smaller startup teams. Maybe you can start with 2 participants per week and move on.
Play an Online Game
There are online platforms that offer exciting and fun games that everyone can play together. It's fun and involves everyone. Having a day just for gaming can be fun. It can be called Fun Wednesday. This can be an exercise at the end of the day. Why have fun until the weekend? Weekdays can be fun too.
To Build a Strong Corporate Culture
Consistency of Events
It is found that successful businesses have predictable annual events. Consistency is key, showing the organization's seriousness about "reaching out to its employees regularly." Formal annual town meetings offer that the company wants its employees to be informed about its growth and future direction. Informal events show that they are worth their employees and want to show them that they care. Consistency is key.
Clarity of Vision and Mission
An organizational culture takes shape once they know why they are here. An organization that knows where the journey is going also knows whom it wants to take. Their clear vision shows where they are going, and their mission shows what they want to donate along the way. Apple is an organization that insists they are. Every employee in the group knows why they are there. So you need to rethink and focus on limitless innovation. And that culture has become the hallmark of the organization that people identify with.
Conclusion
How to build a mission focused startup team, "train people well enough they can walk, treat people well enough they don't want to." People are the fundamental strength of a business. Not the product, not the service. People first. The best organizations, whether in the startup phase or large companies, understand this and engage in team-building activities.
How to build a mission focused startup team, team building is the essence of bringing people together to create something valuable and productive. For a company with a long-term vision, ready to make a difference in the world, team building is an ongoing process and part of the startup culture. Anything else that lacks imagination. Build people first
Also Read: Four Important Things Every Startup needs to be Successful