Create A Free Website Without Registration having your website allows everyone to communicate. Whether exciting innovations in the model building scene, the current harvest in your garden or a company's professional corporate website – every website conveys information. Having your website doesn't have to be expensive. But is it possible to create a free website without signing up?
Unfortunately, it is usually not that simple. For a page to be accessible under an Internet address, it must first be registered – and this requires registration with a hoster or provider of homepages. But the good news is that writing to create a free website usually only takes a few minutes. This article shows the advantages of the three suitable website construction kit providers, Wix, Jimdo and IONOS, by 1&1 MyWebsite and reveals how to create a free website with almost no registration.
What Kind Of Website Should It Be
Even before making detailed considerations, the future website owner should consider what kind of website he wants to create for free without registration. First, the thematic focus is important: is it a diary or a story about a specific hobby? Does the website have to provide information about the services offered? Or maybe it follows new trends in a particular industry? The type of website is also decisive for the further procedure: Is it a blog in which the entry list is chronological? A classic website with a fixed page structure? Or maybe even an online shop? These decisions on the expectations of future readers.
How To Create A Website
Create your website for free without registration. There are three basic ways to create a free website without registration.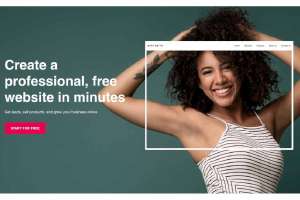 Possibility 1: Create Your Website For Free Without Registration
If the site operator already has his Internet address, he can create a free website without further registration. It requires programming knowledge, a lot of time and know-how about the architecture of websites and databases. In return, the programmer recognizes, with maximum design freedom, optimizing loading times or positioning in Google search results.
Create your website for free
Required skills in programming (e.g. HTML, CSS, PHP), database architecture
EffortVery much own work
Difficulty high possible free of charge (except for the hosting costs), possibly additional costs for external service providers
Option 2: Use A Content Management System Such As WordPress
With a CMS, the user installs the basis of a complete website within just a few minutes. Then he only has to customize it, for example, with one of the thousands of freely available designs or add additional functions using plug-ins. WordPress is the most frequently used representative, but Joomla!, Drupal and TYPO3 are also popular.
The effort involved in familiarizing yourself with a CMS is relatively low. The operator can administer his site comparatively easily, add content and expand his website anytime. He also has the chance to create a free website without registration. Countless online tutorials and an extensive community help maintain the website. Nevertheless, the site operator must also familiarize himself with technical matters.
Content management system
Required knowledge and technical understanding (e.g. how databases and CMS work)
Medium of effort
Level of difficulty
Medium Free website possible; possibly additional costs for special plug-ins or more sophisticated premium designs
Option 3: It's Faster With A Website Builder
A website builder offers many tools to quickly design a website with the simplest means and put it online. The user does not need any previous technical knowledge, can get started without any training and can quickly and flexibly assemble his website from predefined elements using the drag & drop system. With numerous designs on various topics such as photography, food, health or business, he individualizes his site and adds other elements.
Website builders used to be limited in functionality. Today, however, users can design sophisticated websites even with free introductory offers. This way, you can create your website for free without programming yourself or a CMS.
Website Builder
Skills required
EffortLittle
DifficultyEasy
Can be created free of charge (for additional features in premium plans, it may be around 100 to 300 euros per year)
 Which Website Builder Provider Is The Best
You can choose from various providers if you want to create a free website without registration. The top three include Wix, Jimdo and IONOS by 1&1 MyWebsite.
Wix is ideal for all users who value freedom of design, high-quality designs and dynamic functions. For more special functions (e.g. an online shop) and more design freedom, the user uses one of the premium tariffs, which cost between 10.11 and 30.94 euros per month. Jimdo convinces you with a free basic version, with simple pages created in no time. The premium tariffs, which range in price between 9 and 39 euros per month, are ideal for more diverse design options and functions. However, With IONOS by 1&1 MyWebsite, creating a free website without registering is impossible.
Which Internet Address Is Most Suitable Create A Free Website Without Registration
For private websites, a subdomain like https://meinprivatblog.jimdo.com can be entirely sufficient. To present yourself more professionally, you can opt for your Internet address with a typical ending such as .de, .com or .org. If the site operator has registered an Internet address, he can transfer this to the chosen host using an authentication code.
The internet address should be as short, concise and memorable as possible. Ideally, it allows conclusions about the page's content (e.g. combination of name, industry or topic). The best way for users to test whether a desired domain is still accessible is to use a tool such as Markenchk.de.
Create A Free Website Without Registration The Website Be Structured
Now the user determines which structure the website should follow. In addition to the start page, the integral parts of almost every website include an About page with information about the author and company and legal documents such as imprint, contact form or data protection declaration. If the website is to include many menu items, it makes sense to divide the navigation into main and sub-pages for a better overview.
In addition, the content preparation. For blogs, some articles should be written and scheduled in advance to ensure content is published consistently. Correct spelling and proper grammar contribute to a successful overall impression.
How Does The Design Need To Be Adjusted
Now it's time to get down to work: To put the plans into practice, the site operator chooses his design, adds content and photos and creates the documents required for legal reasons, such as the imprint. The design should be as clear and concise as possible. A well-thought-out colour concept, colour-coordinated links, buttons, and easily recognizable fonts play a crucial role.
Create A Free Website Without Registration: Great Designs
Which design site operators should use depends on their chosen theme. If, for example, colourful photos are in the foreground, a high-contrast article suggests.
Bonus: Improve Position In Google & Co
The higher the website ranks in search engine results, the more visitors it will get. There are some measures that site operators can use to make their websites more visible to Google. To do this, they incorporate essential keywords into their headlines, texts and captions and create high-quality content. Fast loading times, a mobile-friendly design and frequent links from other sites also help to become more visible in external media.
How Can You Make Money With A Website
A website offers the potential to earn money. On the one hand, this can work by selling products via your online shop. On the other hand, the operators of websites with a high level of awareness can benefit from advertising partnerships. It includes, for example, affiliate links through which they advertise other manufacturers' products, paid advertising banners or posts sponsored by companies. The marketing opportunities always depend on the topic and the target group of the website.
CONCLUSION
Thanks to sophisticated website construction kits, it is no longer necessary to deal with the technical basis of a website in detail. Even beginners without previous knowledge can create a free website – sometimes even without registering.
HELPFULL RESOURCES: Create Your Android App – How It Works, Programming, Tips, Tricks
How To Make An App For Beginners