Best Free Apps To Meet New People Meet new people from your mobile with these applications to make friends for free
We Will Go Over The Best Apps You Can Use To Meet New People With Your Android Smartphone Or iPhone.
The mobile has become a virtual device to connect with people around us and meet previously unknown people. Today, millions of users use the phone to meet new people worldwide or even to flirt with applications, among which Tinder stands out. The latter is an unstoppable success, becoming one of the apps that earn the most money year after year.
But we will not dedicate this article to finding love, but to meeting people and making new friends (if you are looking for love, better look at the top of the best flirting apps ). And it is that the mobile can become the ideal tool to make friends with new people if you use the best applications with which to meet people for free.
Top Apps To Meet People For Free And Make Friends
Skout
Meetme
Bumble
Meetup
Patalk
Waplog
Ablo
Timpik
All the apps to meet people that we select in this article are free to download. However, remember that some platforms offer payment options to unlock advantages when meeting people.
Be that as it may, these options are not strictly necessary in most cases. You only have to pay if you really want to. So, without further ado, we will see the best applications to meet people that you can use on your mobile. It does not matter if it is Android or iPhone.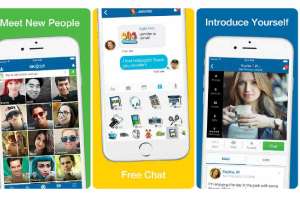 1.  SKOUT
More than 50 million users have already trusted SKOUT, the application of a social platform that allows you to meet new people from anywhere in the world.
By adapting the search parameters to your interests, in SKOUT, you can chat with the person you choose and share photos with them to create a new friendship. Who knows, maybe you'll visit him in her city and discover other parts of the planet.
Meet Me : Best Free Apps To Meet New People
Meet Me is a community of over 100 million people where you can find new friends who share your interests and likes. It doesn't matter if the users are close to you or not, and you can chat with them, share photos and use the local feed, a section similar to Twitter that allows you to share messages with other users, and thus end up making friends from any corner of the world. World.
Bumble
Bumble is one of the most popular apps for making new friends, with more than 21 million users signed up for the same purpose as you: meet people for free.
One of the most prominent sections of this app is Bumble BFF, dedicated solely to making friends. If you have arrived in a new city and want to meet people or expand your group of friends, Bumble BFF is a good option.
Meetup Best Free Apps To Meet New People
Without a doubt, Meetup is a must-have app for those who want to meet new people, especially those who want to do it for free.
After registering, the service recommends events of your interest in the city, where you can meet groups of people who share your interests.
If you hit it off with other people in the app, you can chat with them directly within the app. In addition, you can explore groups and events based on category, not just in your city but anywhere in the world.
Also, in Meetup, you can create your group to organize events on your favorite topics. See how the community is growing, and keep in touch with all the members using the chat.
Patalk
For free, you can use Paltalk group video calls to meet new people from any corner of the planet.
Singing, dancing, chatting, discussing politics, listening to music… You can share different activities during video calls. Also, if you connect with another user, you can use the individual chat to follow the conversation privately.
Waplog
"A free and secure way to meet new people" is what Waplog defines in the Android app store.
With this app, you can start a conversation with other users who live near you and share your interests with them. Like the previous app, Waplog also has free video calls, a beneficial function for meeting people from anywhere worldwide.
Ablo Best Free Apps To Meet New People
Chosen by Google as the best app for Android last year, Ablo is a fantastic app to make friends from your mobile for free. Moreover, The app matches you with people from other countries who can chat or chat through video calls. In addition to meeting new people, Ablo is ideal for learning new languages ​​from the natives of each country.
Timpik
Timpik is the ideal application to meet new people who love sports,  like you: paddle tennis, soccer, tennis. Organize a game of your favorite sport in the app and make it public to invite other people from the city who share your passion. In addition, you can also join matches and events that take place near you. In short, an innovative application that uses sports to meet people and make friends.
Conclusion
These are the most outstanding apps to meet free people of the moment. As for dating services, even Facebook has been encouraged to create its own, Dating, ideal for finding love without leaving the social network. You can also take a look at the best Tinder alternatives out there in 2020.
HELPFULL RESOURCES : Video Calling Apps (Free) – Top 10 Apps And More